For weeks now, ever since it was heard that Christopher Nolan has chosen the title for the third installment of the "Batman" series "The Dark Knight Rises", there has been speculation as to who the new villain should be. I for one have been harping for a while that it's about time for the sultry and equally dangerous Selina Kyle aka Catwoman. Reason being, with the death of Rachel Dawes played by Maggie Gyllenhaal *shudders* there also needs to be a love interest and in the old "Batman" comics there was a fling between Bruce Wayne/Selina Kyle despite the battles Batman/Catwoman had. It's almost too easy...so easy Nolan finally released that he will indeed be casting TWO love interest, one Catwoman (or even Poison Ivy but we're not talking about her) and the other will be a male villain (who I'm also not going to talk about here). The story was broken by "
The Playlist
", which by the way is an excellent source for breaking film entertainment news. Of course there's already a list posted on the site with the likes of: Rachel Weisz, Naomi Watts, Blake Lively, Natalie Portman, Anne Hathaway & Keira Knightley as potential choices. Thank God Halle Berry isn't on this list, but which one of them could be opposite Christian Bale and play Catwoman?
#3 Naomi Watts
Starting off with Naomi Watts. She has a very impressive resume being in 21 Grams, King Kong, Eastern Promises, and more recently Fair Game starring opposite Sean Penn. She's already slated to play in a Marylin Monroe biography to come out in 2012 so she may not have the time. She's very attractive, and already has the blonde hair and baby blues that Selina Kyle/Catwoman had in Batman. She just doesn't have any reported experience in being in any action that requires stunts such as the ones Catwoman would be doing. Which leads me to my second choice...
#2 Keira Knightley
Extremely talented and has been in films such as "Pride and Prejudice", "Atonement", and her most notable role coming in the "Pirates of the Caribbean" trilogy Keira Knighley would be as close as to Catwoman as you can possibly get. Not only that, she displays some kick-ass skills in the action flick "Domino". She possesses the athleticism, agility, and sassy attitude that Catwoman is known for. Plus she is pretty damn sexy when she wants to be, I don't see why she couldn't pull it off either. But then again...
#1 Charlize Theron
Pardon me as I *swoon* off my bed @ the alluring beauty of Miss Charlize Theron. She may not be on the above mentioned list by "The Playlist", but she's on mine and is actually my number one choice to play Catwoman. Sexy (she was a former model and I mean LOOK at her), talented (Academy Award Winner for Best Actress in "Monster"), and also looks good in a black leather suit. See her role in the live action adaptation of "
Aeon Flux
". Lest not forget her in the action/comedy "Hancock" where she played the "villain" opposite Will Smith. Personally I think she'd be a shoe-in for this role. Right now though, she is in the middle of filming a movie but I hope Nolan at least has her in mind and will ask her.
Honorable MentionJanuary Jones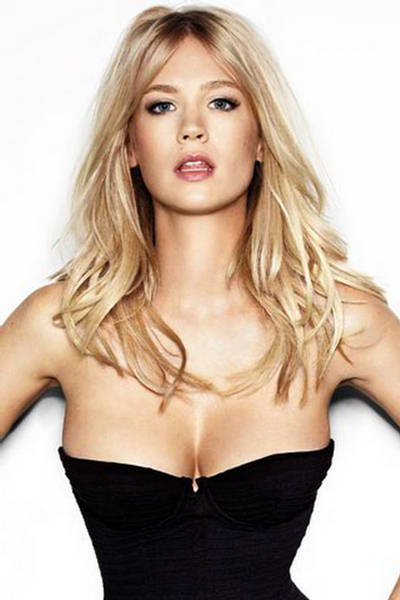 Bet you didn't see this one coming, did you? If January Jones ever wants to step behind her cozy housewife role in the critically acclaimed "Mad Men" this would be one bold and huge step for her. Blessed with a graceful beauty and some serious curves. She's not too familiar with the silver screen, other than her most notable roles being in "We Are Marshal" and "Pirate Radio", but if Nolan really wants to create some buzz having Jones play the iconic Catwoman would definitely be the way to go. And as far as I'm concerned, looking at that picture it wouldn't be a bad place to be.
Tweet